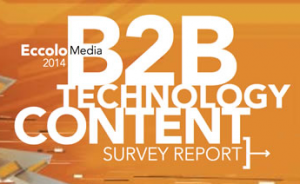 While this survey focuses on technology buyers, we believe it has broader applicability to B2B marketers looking to influence the large deal decision-making process.
The Eccolo Media 2014 B2B Technology Content Survey Report is a unique resource aimed at technology marketers struggling to understand how marketing content consumption needs are evolving. They surveyed 503 managers, directors, vice presidents, C-level executives, and other key personnel at small businesses, mid- market companies, and large enterprises.
Some highlights from the report:
Marketers spend $44 billion a year on custom content.
Even when faced with a wider set of choices, our respondents, as in years past, favor traditional content types. White papers, product brochures, case studies, and technology guides/implementation scenarios remain among the most consumed and influential collateral assets during a technology purchase.
Half of all respondents prefer to consume the content in printed form.
When asked how many assets they consume on average when considering a technology purchase, 50 percent of our survey respondents say they consume two to five assets before they're ready to make a purchase.
Twenty-six percent of mid-market and large enterprise respondents say they consume six to eight assets when in a buying cycle.
White papers rank as the most frequently consumed content type (49 percent). Following closely are product brochures/data sheets (46 percent); case studies/success stories and detailed technology guides/ implementation scenarios (36 percent); and video/multimedia files (35 percent).
"Buyers have likely become more discriminating— and less apt to find content influential just because it's available. This makes the job of the content marketer even tougher. Any content produced must be of the highest quality, capturing the attention of the finicky buyer with the right message at just the right time."
There's a lot more detailed information in the report than we can summarize here. Check it out for yourself at Eccolo Media or read the executive summary here.
*****
To schedule a free Excelsior Integrated assessment of your marketing operations, please click below. Assessments include analysis of existing fulfillment operations, gaps in process procedures, recommendations, and estimated cost savings.